December 10th, 2021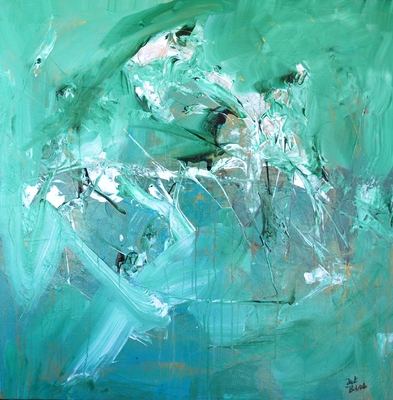 "Be present. Let go. Disappear." It is a kind of mantra that I repeat when beginning a painting, and sometimes during the process. It is a reminder to enter into and remain in a particular state of mind, to get into the "zone" that produces my best work. I had a difficult time describing that zone until a friend said, "You must have been in a state of "no mind" to create such an evocative work." I embarked on a search to understand what he meant by "no mind." I discovered "mushin."

Mushin is a Japanese term, translating to English "no mind." It refers to a mental state which martial artists enter into during combat. The term is a shortened version of "mushin no shin," a Zen term meaning "the mind without a mind." Mushin is achieved when a person's mind is free from thoughts of anger, fear, or ego during combat or everyday life. There is an absence of discursive thought and judgment, so the person is totally free to act and react towards an opponent without hesitation and without disturbance from such thoughts. At this point, a person relies not on what they think should be the next move, but what is their trained natural reaction (or instinct) or what is felt intuitively.

That is a good description of the state I seek when painting, except for the term "opponent." I do not see the canvas in front of me as an opponent, although sometimes my relationship with it is a conversation and sometimes it is a war.

Legendary Zen master Takuan Sōhō explains that martial arts are not the only path to achieving mushin. He wrote, :Once mushin is attained through the practice or study of martial arts (although it can be accomplished through other arts or practices that refine the mind and body), the objective is to then attain this same level of complete awareness in other aspects of the practitioner's life." Like painting!